Hot Springs National Park will be celebrating our 100th anniversary as a national park throughout 2021. Whenever you plan on visiting, there will be something for you to enjoy and be a part of! After all, a 100th birthday only comes around every 100 years, so we have to make the most of it while we can! Learn more about the park's centennial: www.nps.gov/hosp
10 – Drink the Thermal Water
This should be one of the first things you do when you visit Hot Springs National Park. These lands were first protected in 1832 to preserve the thermal water and ensure the water would always be available for the enjoyment and benefit of the public. Throughout the park, there are thermal fountains and two cold spring fountains where visitors can fill up their cups, bottles, and jugs with the mineral-rich, clean, and delicious water. One shouldn't leave the park without "quaffing the elixir!"
9 – Enjoy A Soak
The next best thing to drinking the water has to be soaking in the water. For over 189 years, people have been coming to Hot Springs to drink the water and find relaxation and healing in the warm, soothing waters. The thermal springs come out of the ground at 143 degrees F/ 62 C and are much too hot to soak in outdoors. There are two bathhouses currently in operation, the Quapaw and the Buckstaff, that cool the water down to a perfect soaking temperature. (Be sure to make a reservation!)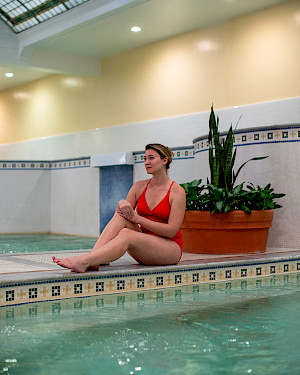 8 – Go for a Hike
Hot Springs National Park might be the second smallest urban park in the National Park System, but we still have 26 miles of trails waiting for you to explore. You can hop on the trails right from downtown and make your way to the top of Hot Springs Mountain or West Mountain. If you're feeling extra adventurous, you can take on the 13-mile Sunset Trail. Choose your own adventure and make it yours!
7 – Take a Scenic Drive
If hiking isn't for you, or if you need to give your chevro-legs a break (see what we did there?), take a drive up Hot Springs Mountain Drive and explore the overlooks and take in the vast, rolling views of Hot Springs. Find your way up West Mountain Drive for views of downtown, the Bathhouses, and great sunsets.
6 – Camp at Gulpha Gorge Campground
The park's only campground is an iconic place to stay while visiting Hot Springs National Park. Tucked away next to Gulpha Creek, there are 40 sites with full hook ups available for both RV'ers and tent campers alike. Hike into town, go for a dip and cool off in the summer, or simply relax amidst the tall trees and cliffsides.
5 – Join the Photography Contests
Every month the park will be hosting a photography contest. Each month brings a different theme and a chance for you to enter the photographs you've taken (or will take) for a chance to win. Photos can be submitted regardless of when they were taken as long as they fit that month's theme! Share them with us online through social media using the hashtags #HotSprings100 and #CentennialPhotographyContest for a chance to be featured on our social media accounts and our website.
4 – Become an Iron Ranger
If you'll be traveling throughout Arkansas, you'd be remiss not to jump on the Iron Ranger Challenge! This challenge encourages folks of all ages and skill levels to hike, bike, walk, run, or paddle 100 miles on any Arkansas public lands. This could be a city park, a national park, state park, a wildlife refuge, a historic site, and everything in between! Keep track of your miles and send the park your log once you reach 100 and get ultimate bragging rights and commemorative gear in return.
3 – Get Your Centennial Cancellation Stamp
If you have a Passport to Your National Parks®, you'll definitely want to come to Hot Springs in 2021 to get a commemorative stamp for your passport book to mark the park's Centennial. Even if you don't have a passport book yet, this is a great year to start!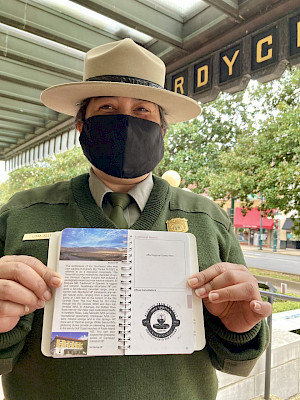 2 – Become a Centennial Junior Ranger
The Junior Ranger program is easily one of our most beloved programs in the National Park Service. Children of all ages work on an activity booklet and after returning their booklet to a ranger for review, they receive a junior ranger badge. Even if you've already completed the program before, you'll want to do it again so you can receive the official Hot Springs National Park Centennial Junior Ranger badge. It'll only be around during 2021!
1 – Participate in Monthly Events
Starting in March, the park will host themed monthly events to celebrate the Centennial. We'll kick things off with a birthday celebration on March 4th and will continue hosting events once a month in the park through November. Each event has a different theme and will offer new opportunities to learn and engage with the park. Be sure to keep an eye out for other Centennial city-wide events, as well! All of the events are interactive and family friendly.
Ashley Waymouth
Park Ranger / Centennial Coordinator
Ranger Ashley has been at Hot Springs National Park since March of 2020. When she's not planning the park's centennial, she can be found hiking on the trails and exploring the Natural State's public lands.